Saturday 22 September 2012
Kanye West tells girlfriend Kim Kardashian to be more like his crush Kate Middleton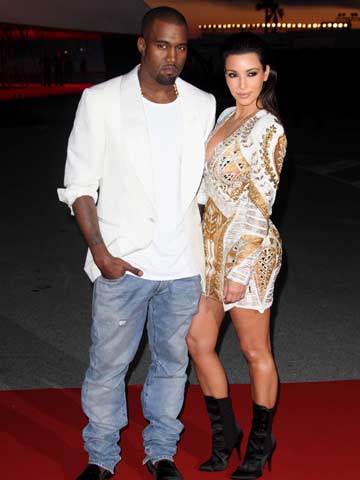 Kanye West has no trouble pointing out what he doesn't like about Kim Kardashian
Despite having already made girlfriend Kim Kardashian chuck out her some of her not-so-stylish clothes, Kanye West isn't finished with suggesting improvements the reality TV star can make to her appearance.
Kanye, 35, is a Kate Middleton fan and prefers her classic blow-dry and minimal make-up to Kim's high maintenance look.
'Kanye has been urging Kim to tone down her make-up and style her hair in a more conservative way, like Kate,' a source tells The Daily Star.
'He's also told her that she could learn a thing or two about poise and sophistication from Kate.'
The world has now seen Kate's slender figure on show in - and out - of her bikini and the US rapper-turned-designer wants Kim, 31, to lose weight.

'Kanye's unbelievable,' a friend of Kim's tells us.
'He wants her to become the face of his clothing range DW as part of his "brand" ambition for them both.
'To do that she has to fit into sample sizes.
'He suggested she drop a stone by trying Beyoncé's diet.'
SEE PICTURES Kim Kardashian and Kris Humphries - a love story in photos
SEE PICTURES The Kardashian family's life in pictures
SEE PICTURES Kim, Khloé and Kourtney Kardashian launch boutique
Rachel McGrath