Sunday 21 October 2012
Robbie Williams: I feel a bit sorry for One Direction singer Harry Styles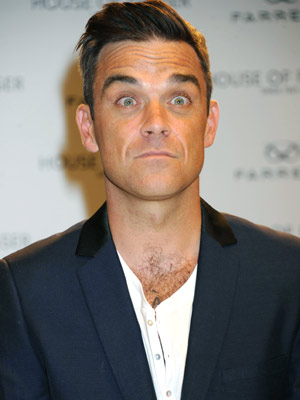 Robbie Williams is now a father
Robbie Williams reckons he had a much easier time being in a boy band than Harry Styles.
One Direction hottie Harry's every move seems to end up in the newspapers but Robbie was able to have a wild time in private when he was starting out in the music industry two decades ago.
'I feel a bit for Harry. At his age I was in this lilywhite boy band Take That. But I was meeting up with mates, jumping out of the tour bus,' recalls Robbie, 38..
'I would get off my face and have compete anonymity.
'No one had a camera phone so I could go and enjoy myself properly. Harry is finding out it's not so easy for him.'
Robbie is now all grown-up and a father to baby daughter Theodora Rose with wife Ayda Field.
But he sees a lot of his womanising younger self in Harry, 18 - who dated Caroline Flack and has been linked to Cara Delevingne and Pixie Geldof.
'It's only natural a lad in a boy band will be compared to me at some point,' Robbie tells The Sun.
'Everyone is a ladies' man or a man's man, whatever your persuasion might be. He's just having a nice time.'
SEE PICTURES Robbie Williams and Ayda Field in Celebrity births 2012
SEE PICTURES Robbie Williams and Ayda Field - their love story
SEE PICTURES Robbie Williams: The highs and lows in photos
Aimee Latimer