Thursday 13 September 2012
Prince William: I'm thinking about having two children with Kate Middleton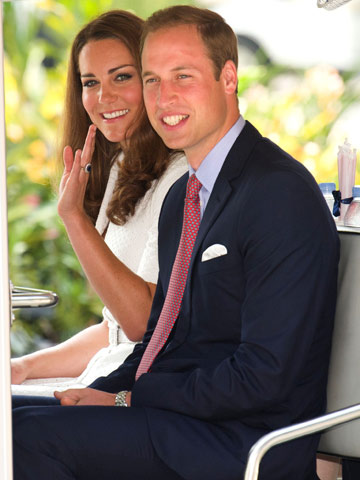 Kate Middleton and Prince William have begun their tour of Asia and the South Pacific
Prince William has revealed that he'd like to have two children with his wife Kate Middleton.
The Duke Of Cambridge let slip his plans for the future when the couple met excited crowds in Singapore yesterday.
A little boy asked William how many babies he wanted, to which he replied that he was 'thinking about having two'.
William and Kate, both 30, are currently in Singapore on the first leg of their Diamond Jubilee tour of Asia and the South Pacific, which will also see them visiting Malaysia, the Solomon Islands and Tuvalu.
Several people waiting to catch a glimpse of the royal couple at the Gardens By The Bay attraction ended up fainting in the hot weather - and William can't have been comfortable in a navy suit and tie.
Earlier in the day, Wills and Kate paid a visit to Rolls-Royce's factory, where they tested a new multi-million pound jet engine.
NEW PICTURES Kate Middleton visits National Orchid Garden with Prince William
SEE PICTURES Kate Middleton's Style File
NEW PICTURES Kate Middleton wears Singapore designer's dress on Jubilee Tour with Prince William
Anna Duff