Wednesday 12 September 2012
The Wanted have a long way to catch up - One Direction earn £40 million in just one year!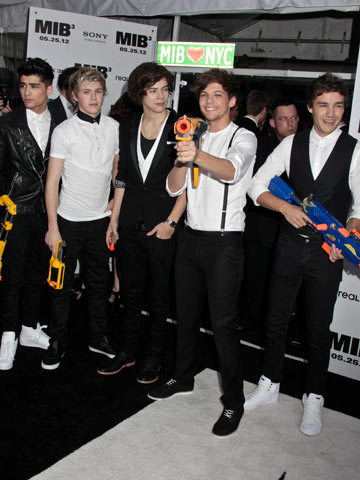 One Direction formed on The X Factor
The One Direction boys have earned an incredible £40 million in a year after selling 12 million records.
Harry Styles, 18, Zayn Malik, 19, Niall Horan, 18, Liam Payne, 19, and Louis Tomlinson, 20, have also managed to crack the US, win numerous awards and perform a series of sell-out gigs.
Of course, even though they only came third on The X Factor 2010, we always knew the the boys were going to be successful.
We were thrilled when their debut single What Makes You Beautiful became a massive hit.
In March, 1D made history when they became the first ever British group to go straight to No 1 in America with their debut album Up All Night.
The lads have been enjoying a friendly rivalry with boy band The Wanted, who also hope to be global superstars.
Seems as though Tom Parker, 24, was having a good-humoured dig at One Direction on Chris Moyles' Radio 1 show recently.
When Chris suggested One Direction were more successful than The Wanted, Tom said: 'Our new single I Found You is a bit different. We like to mix it up. We try not to be stereotypical'.
Harry Styles is reported to have responded on Twitter: 'Chris Moyles is actually right though... If 1D aren't in the picture, The Wanted would've been WAY more popular!'
SEE PICTURES Harry Styles and One Direction end US tour with show-stopping concert in Florida
SEE PICTURES One Direction fly from London to Manchester with fans to raise money for Comic Relief
SEE PICTURES Life before One Direction: Funny photos from Harry Styles, Niall Horan and Louis Tomlinson's school days
Anna Duff