Wednesday 12 September 2012
One Direction girlfriend Eleanor Calder: Oi, Louis Tomlinson - you're a panini head!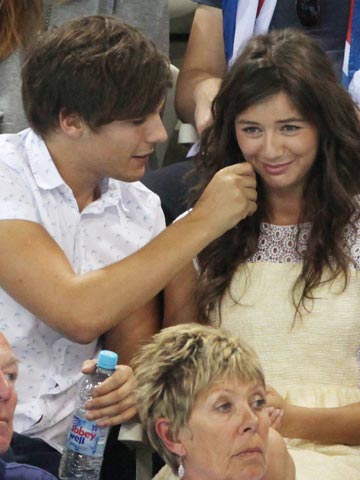 Louis Tomlinson and Eleanor Calder are loved-up
Eleanor Calder has been giving her boyfriend Louis Tomlinson a bit of a tongue-lashing on Twitter.
When One Direction singer Louis told his followers that he was watching Gordon Ramsay's programme Kitchen Nightmares, Eleanor jokingly fired one of the chef's famous insults back at him.
'@GordonRamsay01 Always makes the best TV ! Kitchen Nightmares, priceless !' Tweeted Louis.
Eleanor replied: '@Louis_Tomlinson @gordonramsay01 OI! Panini head!'
Louis and Eleanor, both 20, are clearly smitten with each other and enjoy a bit of banter.
University Of Manchester student Eleanor flew to the US with Liam Payne's squeeze Danielle Peazer last week to see her boy and his band mates pick up three awards at the MTV Video Music Awards.
'So amazing last night to watch @onedirection win 3 VMA's! Massive well done! :) xxx,' she Tweeted the next day.
SEE PICTURES Get the look! One Direction star Louis Tomlinson's girlfriend Eleanor Calder and Liam Payne's other half Danielle Peazer are new style icons
SEE PICTURES Louis Tomlinson and One Direction sign copies of album Up All Night in New York
SEE PICTURES Louis Tomlinson with One Direction and red carpet guests at the Brits 2012
Anna Duff