Wednesday 12 September 2012
PICTURE Chris Brown: My new sugar skull tattoo isn't of Rihanna!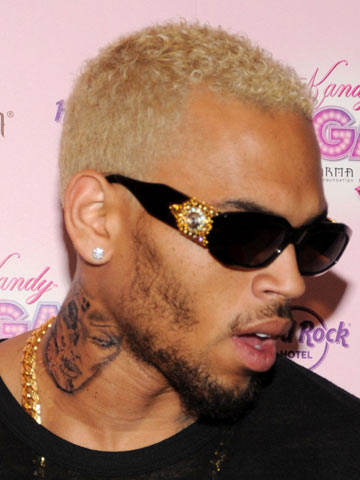 Chris Brown's causing controversy again
Chris Brown has denied rumours that his new neck tattoo is an image of Rihanna.

The new skin ink has caused outrage because it appears to depict the battered face of a woman with a striking resemblance to his ex.
But Chris's reps says the artwork is actually a skull.
'His tattoo is a sugar skull (associated with the Mexican celebration of The Day Of The Dead),' they tell TMZ.

'It is not Rihanna or an abused woman as erroneously reported.'

Early sketches of the design show a woman with decoration rather than bruising on her face.

But the finished tattoo reminds many fans of the police shot of Rihanna following Chris's assault in 2009.
The woman depicted seems to have a black eye, stitches on her lips and dark bruising to the side of her face.
Last week Chris and Rihanna were seen sharing a kiss and embrace at the MTV Video Music Awards.
Rihanna also admitted to Oprah Winfrey in a candid interview in August that she and Chris have been getting closer.
'We've been working on our friendship again and now we're very close friends,' admitted Ri-Ri.
'It's awkward because I still love him.

'My stomach drops and I have to maintain this poker face and not let it get to the outer part of me.
'We love each other and we probably always will.'
SEE PICTURES Rihanna's style file
SEE PICTURES Rihanna's rise to fame
SEE PICTURES Celebrity Hair: Rihanna
Rhian Petty