Tuesday 11 September 2012
Demi Lovato slams US magazine for suggesting Kate Middleton is pregnant because her dress has been let out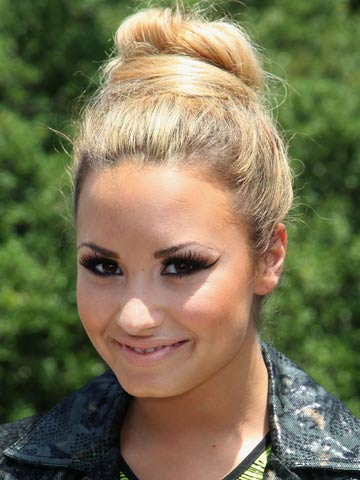 Demi Lovato has been outspoken about her own eating disorder struggles
An article in American magazine Star suggesting Kate Middleton could be pregnant because she's gained a couple of pounds has infuriated Demi Lovato.
The singer-songwriter had a stint in rehab in 2010 to deal with an eating disorder and she hates the media focus on body image and weight.
'So apparently Kate Middleton (William?) is pregnant because of THIS picture,' Demi Tweeted with a link to the snap.
'Are you KIDDING ME?!!'
The article includes a photo of the back of Kate's dress, where her sash appears to have been let out and resewn in order to extend it a couple of inches.
'Breathing room for her bump perhaps?' the mag questions.
'And people wonder why girls/guys have body image issues,' singer-songwriter Demi rants.
'Whether she is or not, she still has a beautiful body.

'Shame on you Star magazine.'
Demi - who quit her role as Sonny Munroe in the Disney sitcom Sonny With A Chance to deal with her bulimia - received an apology from The Disney Channel in December 2011 for a joke broadcast on children's TV show Shake It Up.
'I find it really funny how a company can lose one of their actresses from the pressures of an EATING DISORDER and yet still make joke about that very disease..... #nice,' Tweeted Demi.
'What are we promoting here? #notfunnyATALL.'
SEE PICTURES Kate Middleton and Prince Harry enjoy London 2012 Closing Ceremony without Prince William
SEE PICTURES Kate Middleton, Prince William and Prince Harry watch cousin Zara at the Olympics
SEE PICTURES Kate Middleton's Style File
Rhian Petty