Tuesday 11 September 2012
One Direction fans crash cancer patient's website after Louis Tomlinson sends 'lots of love' Tweet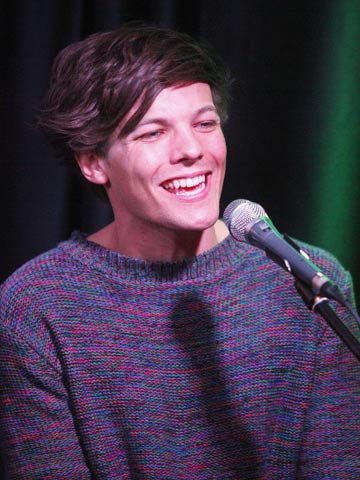 Louis Tomlinson won 3 VMAs with One Direction last week
One Direction fans unwittingly crashed a 12-year-old cancer patient's website after reading a sweet message of support Louis Tomlinson had sent her on Twitter.
Loyal Directioners rushed to find out about Vanessa Riddle - who's been suffering from neuroblastoma for three years - after the singer, 20, wrote: 'Lots of Love @vanessariddle'.
An administrator on the Vanessa's Journey Facebook page tells the Daily Record: 'They actually thought the site was under attack, such was the sudden surge of traffic.
'It also got Vanessa 5000 more Twitter followers.'
Ayrshire-born Vanessa is currently in hospital in Germany after receiving stem cell treatment which could potentially save her life.
Despite being a big 1D fan, Vanessa's dad Chris insisted she 'played it cool' when Louis sent her his cute message.
'@Louis_Tomlinson Oooooooo, thanks for my tweet, luuuuuv it <3 <3 xx#' she responded.
SEE PICTURES Get the look! One Direction star Louis Tomlinson's girlfriend Eleanor Calder and Liam Payne's other half Danielle Peazer are new style icons
SEE PICTURES Louis Tomlinson and One Direction sign copies of album Up All Night in New York
SEE PICTURES Louis Tomlinson with One Direction and red carpet guests at the Brits 2012
Anna Duff