Wednesday 12 September 2012
Kris Jenner tells Kanye West: Shut up about Kim Kardashian's sex tape!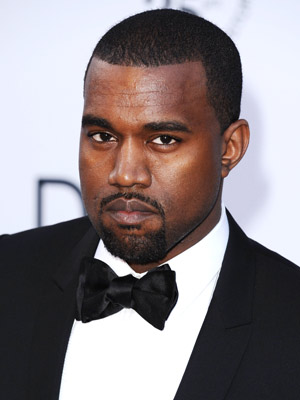 Kanye won't stop talking about Kim Kardashian's infamous home movie
Kim Kardashian's mum and manager Kris Jenner has firmly told Kanye West to stop talking about her daughter's sex tape.

The rapper recently revealed he used to watch the notorious home movie when he was getting intimate with previous lovers, infuriating Kris.
'Kris had stern words with Kanye when she saw that he had said that he would put Kim's sex tape on when romping with other women,' a source tells RadarOnline.com.

'She thinks it's a disrespectful claim and told Kanye to stop talking about it at every opportunity.'

Kanye's clearly not embarrassed by the sex tape his girlfriend made with her ex Ray J in 2003, even using the lyrics 'My girl a superstar from a home movie' in new single Clique.

But Kris is furious that Kanye keeps dragging up the past.

'As far as Kris is concerned, the video with Ray J is history and since then Kim has become a reality TV star, a fashion designer, even a philanthropist,' reveals the insider.
'Kim is caught in the middle. She wants her mom and Kanye to get along because she wants Kris to approve of their marriage.

'She won't if Kanye keeps doing things like this.'
SEE PICTURES Kim Kardashian and Kris Humphries - a love story in photos
SEE PICTURES The Kardashian family's life in pictures
SEE PICTURES Kim, Khloé and Kourtney Kardashian launch boutique
Rhian Petty