Tuesday 11 September 2012
Prince William visits 'beautiful' tribute to late mother Princess Diana in Singapore with Kate Middleton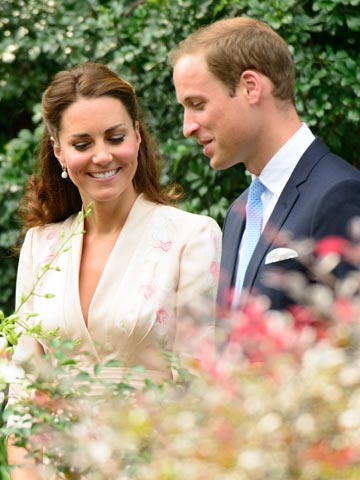 Kate Middleton and Prince William have begun their tour of Asia and the South Pacific
Prince William and his wife Kate Middleton paid an emotional tribute to his late mother Princess Diana shortly after they touched down in Singapore today.
The royal couple visited the country's Botanical Gardens to see the white Dendobium Memoria Princess Diana orchid, which was named after Diana less than a month after she passed away in 1997.
'It's beautiful, beautiful,' said William. 'That's very nice.'
Kate and William, both 30, visited the gardens straight after stepping off a 14-hour flight.
Kate looked stunning in a very appropriate kimono-style pink dress with an orchid print by designer Jenny Packham while Wills donned a dapper navy suit.
The pair were both given the honour of having an orchid named after them, which Kate was seen clutching as she left the venue with her husband.
Singapore is the first stop on Kate and William's tour of Asia and the South Pacific, which will also see them visiting Malaysia, the Solomon Islands and Tuvalu.
NEW PICTURES Kate Middleton visits National Orchid Garden with Prince William
SEE PICTURES Kate Middleton's Style File
NEW PICTURES Kate Middleton wears Singapore designer's dress on Jubilee Tour with Prince William
Anna Duff