Friday 07 September 2012
Nick Grimshaw congratulates his 'G' Harry Styles after One Direction score amazing triple win at MTV VMAs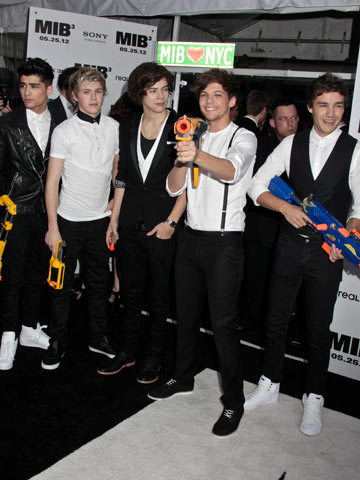 One Direction won 3 awards at the MTV VMAs last night
One Direction were the stars of the show at the MTV Video Music Awards in LA last night.
The boys won all 3 gongs they'd been nominated for - Best Pop Music Video, Most Share-Worthy Video and Best New Artist, which they beat The Wanted to receive.
'We owe you everything. Thank you so much for this. Three VMAs!! YEAH .xx,' Tweets Harry Styles, 18.
Louis Tomlinson, 20, adds: 'Wow can't believe we won three awards ! I said it on stage but i'll say it again! The awards are because of you guys , thank you everyone !'
1D's friends and family are thrilled at their success, with Harry's mum Anne Cox telling her Twitter followers yesterday evening that she was doing a 'celebratory dance'.
Celebrities have also come out in force to send the boys their best wishes.
'Congratulations 1D. I'm very proud of you. Celebrate,' Tweets their mentor Simon Cowell.
While Harry's BFF Nick Grimshaw writes: 'Yehhhhhh my G @Harry_Styles u gots a moon man! #VMAs.'
SEE PICTURES Harry Styles and One Direction end US tour with show-stopping concert in Florida
SEE PICTURES One Direction fly from London to Manchester with fans to raise money for Comic Relief
SEE PICTURES Life before One Direction: Funny photos from Harry Styles, Niall Horan and Louis Tomlinson's school days
Anna Duff