Monday 03 September 2012
Carrie Reichert: Strip billiards party with Prince Harry in Las Vegas was 'sexy naked' but 'not like an orgy'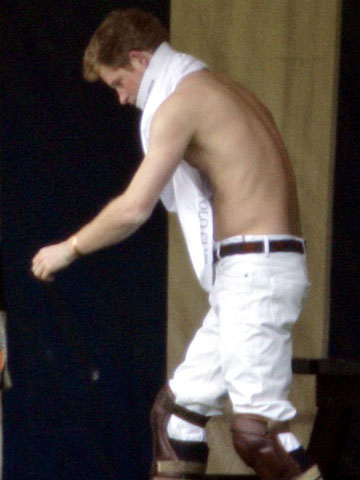 Prince Harry loves to party
Prince Harry's infamous Las Vegas blowout included some sexy smooching, claims British-born beautician Carrie Reichert, 32.
Carrie and her friends were invited to join Harry's party at the Wynn hotel and Wills' little brother quickly noticed the pretty blonde.
'We all went up to this huge VIP high-roller
suite, and went in and the music was going, alcohol was flowing,' says Carrie, who now lives in San Diego.
'Harry
was already undressed. It was just crazy. He looked actually delirious.
There was a pool table and he was ­playing air guitar with pool sticks.
'We kissed, he was naked at the time, and pretty open. It was a drunken fumble. It wasn't romantic, just fun.
'He was a gentleman, but he was so wasted. The alcohol affected him. I was there for 15 to 20 minutes.'
Carrie says Harry, 27, wasn't the only one walking around with his clothes off.
'There were girls naked. The guys were half dressed,' she tells The People.
'It was not like an orgy going on, it was just sexy naked.'
NEW PICTURES Kate Middleton and Prince Harry enjoy London 2012 Closing Ceremony without Prince William
SEE PICTURES Kate Middleton cuddles Prince William with Prince Harry as Chris Hoy wins 5th Olympic gold
SEE PICTURES Tennis fan Pippa Middleton braves the rain in denim