Sunday 02 September 2012
Katie Price: I'm going to start competing with my horses so that I can join Team GB at the next Olympics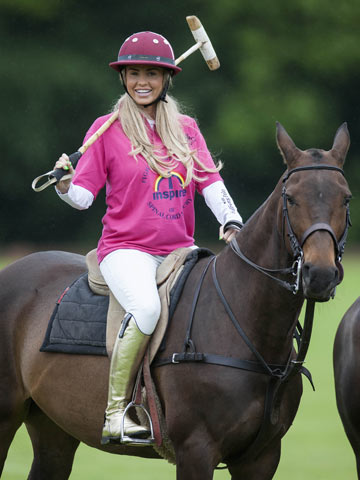 Katie Price has her own equestrian clothing range
Katie Price has revealed that she's planning to start competing more seriously with her horses as she wants to take part in the Rio 2016 Olympics.
The model is a keen horsewoman and even has her own equestrian clothing range, but now she's taking her riding to the next level.
'I've bought 2 more show jumpers and I'm going to start competing,' Katie, 34, tells The Sun.
'I'm just concentrating on my horses now. They mean the world to me - I'd love to do the Olympics. I am ambitious and love what I do.
'Watch out for the horses. I'm loving working with them. I'm not in any competition but with myself. I have a tick list of things that I'd love to do, I just can't do it all.'
Katie's already been getting into the spirit by throwing her support behind the Paralympic Games.
The mum-of-3, whose eldest son Harvey has residual vision as well as other disabilities, says she 'really enjoyed' the opening ceremony on Wednesday night.
'watching the paralympics and great to see so many countries reperesented,' Katie told her Twitter followers.
'and all looking so pleased to be attending and taking part'
SEE PICTURES Katie Price and Peter Andre - after the love split
SEE PICTURES Peter Andre and Amy Childs party at Sugar Hut
SEE PICTURES Peter Andre's night on the town with Nicola McLean and Chantelle Houghton
Anna Francis