Tuesday 28 August 2012
Nick Grimshaw buys Harry Styles a banana on bank holiday bromance weekend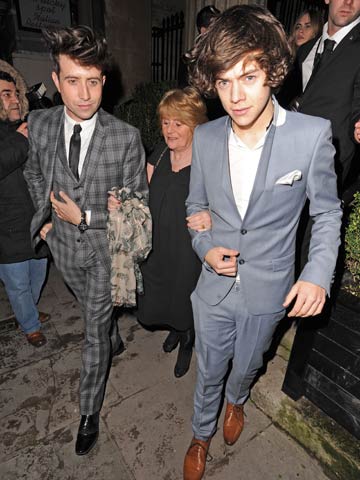 Harry Styles and Nick Grimshaw are close friends
Harry Styles spent a lot of time with his BFF Nick Grimshaw over the bank holiday weekend.
On Saturday, the One Direction singer joined Radio 1 DJ Nick at Reading Festival to catch a few bands perform.
The pair later headed to London club G-A-Y to see Rita Ora sing live.
The next day, Nick and Harry donned matching navy T-shirts for an afternoon at a pub in London's Primrose Hill, where they found themselves surrounded by a number of pretty blondes.
One Direction hottie Harry, 18, was seen posing for photos and hugging some of the girls before he left the venue with Nick.
Afterwards, the boys stopped off at a shop to buy some fruit - but Harry didn't have enough cash to pay for his banana so Nick, 28, was forced to lend him the dosh.
SEE PICTURES One Direction teen star Harry Styles' rise to fame
SEE PICTURES Harry Styles and One Direction perform new song Gotta Be You on German TV show
EXCLUSIVE PICTURES Caroline Flack shows off exactly what Harry Styles saw in her
Anna Duff
VIDEO: One Direction's Harry Styles supports Cancer Research UK

VIDEO: One Direction coming soon
VIDEO: Teen Now meets One Direction part 1
VIDEO: Teen Now meets
One Direction
part 2
VIDEO: One Direction at Capital FM Jingle Bell Ball part 2