Tuesday 21 August 2012
He's still going! Prince Harry continues 'full-on partying' in Las Vegas - with an inflatable banana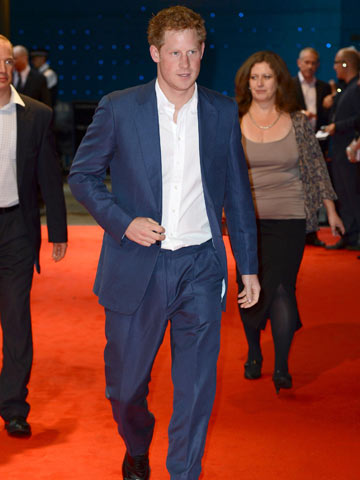 Prince Harry is enjoying his holiday following the Olympic Games
Prince Harry has been continuing his hedonistic holiday antics in Las Vegas after living it up at a wild pool party earlier in the week.
Since the do at Wet Republic, which was also attended by Jennifer Lopez, Wills' little brother hasn't slowed down and has been seen at Encore Beach Club enjoying another 'adult pool party'.
Harry, 27, and pal Tom 'Skippy' Inskip - accompanied by 2 bodyguards - had their own bungalow complete with hot tub at the all-day bash and messed about with a giant inflatable banana.
They also lapped up female attention, with the royal singleton being snapped in the middle of several bikini-clad ladies who excitedly posted snaps on Twitter and called him a 'gentleman'.
Harry and co eventually headed to XS nighclub and partied with VIPs including Olympic swimming gold medallist Ryan Lochte.
Harry is due back in the UK shortly to take up his military commitments but will not attend the opening of the Paralympic Games.
NEW PICTURES Kate Middleton and Prince Harry enjoy London 2012 Closing Ceremony without Prince William
SEE PICTURES Kate Middleton cuddles Prince William with Prince Harry as Chris Hoy wins 5th Olympic gold
SEE PICTURES Kate Middleton, Prince William and Prince Harry watch cousin Zara at the Olympics
SEE PICTURES Prince Harry's sister-in-law Kate Middleton's Style File
Anna Francis