Friday 17 August 2012
OMG she's 90! Sylvester Stallone's 'trout pout' mum Jackie is quite a sight in mini skirt and heels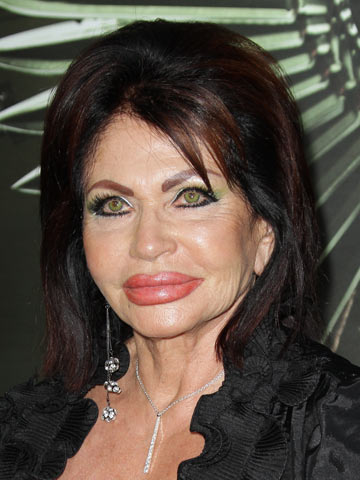 Jackie Stallone was voted out first when she appeared on Celebrity Big Brother in 2005
Sylvester Stallone's mum Jackie Stallone raised eyebrows at a film premiere on Wednesday when she stepped out in a mini skirt and heels - at the age of 90.
Jackie, who was a contestant in Celebrity Big Brother in 2005, showed off her huge 'trout pout' and taut skin at the screening of her son's flick The Expendables 2 in LA.
Sly, 66, was definitely not the centre of attention as his glamorous mother posed for the paparazzi.
The age-defying grandma is rumoured to have spent up to £70,000 on her latest cosmetic surgery makeover, including a boob job, facelift and total body skin resurfacing.
PICTURES The changing face of Jackie Stallone
'Her arms and skin look fabulous,' Dr Aamer Khan of the Harley Street Skin Clinic tells the Daily Mirror.
'Her skin appears very smooth for her age and her chest is almost flawless, but it's just such a pity about her face.
'Her lips are far too big. She has them over-filled and I hope it's not with silicon, as she'll be stuck with it.'
Anna Francis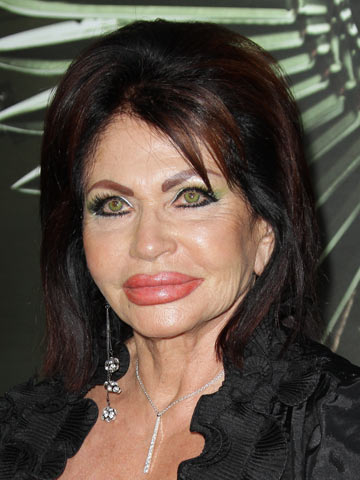 Poll
What do you think of Jackie Stallone's new look at 90?
Absolutely amazing! (10%)


It's freakish and wrong (45%)


She looks pretty good but her lips appear ready to explode (28%)


Is this for real? I can't believe it (16%)

Thanks, your vote has been counted!