Tuesday 31 July 2012
TOWIE's James 'Arg' Argent betrays Gemma Collins with Vegas girls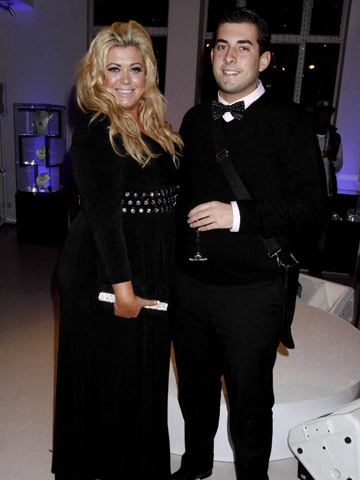 TOWIE stars James 'Arg' Argent and Gemma Collins could soon be off
We've watched her fall hard for boyfriend James 'Arg' Argent, but Gemma Collins is heading for heartbreak once more.
Now can reveal that TOWIE star Arg, 24, has been sending flirty messages to a pretty brunette he met during a recent trip to Las Vegas.
The news will devastate Gemma, 31, who's already declared her love for Arg just two months into their relationship.
Now was first to break the story in March that the pair had a fling at a boot camp in Marbella.
Viewers then watched them passionately kiss on the show in May.
But while Gemma was falling head over heels, Arg was larging it up in Vegas with best pal and former TOWIE co-star Mark Wright.
Not only was he spotted kissing a girl sat on his knee at Tao nightclub, he also met US-based beauty Andrea Odian, whom he's been sending cheeky Tweets to.
In one message on 13 July, Arg wrote: 'I miss the kiss tattoo on your ass. Getting Skype soon! Drop it like it's... haha x.'
Andrea responded by reTweeting the message: 'Nothing will ever beat those four days and nights. Fact.'
She then Tweeted: 'Unless we do it again.'
In another message, she jokingly added: 'How could we forget? Arg's moobs are burned into my brain for ever.'
When we contacted Andrea last week, she refused to comment on Arg's Twitter messages, saying: 'I don't want to talk about that.'
Although there's no suggestion of a sexual relationship, it's clear that Arg's head was turned by Andrea.
A spokesman for Arg told Now: 'He's friends with Andrea. They met via a mutual pal.'
So what will Gemma think?
Read the full story about Gemma Collins and James 'Arg' Argent's relationship and see the pictures of Arg in Las Vegas in Now magazine dated 6 August 2012 - out now!
SEE PICTURES The Only Way Is Essex - meet the cast>>
SEE PICTURES The Only Way Is Essex cast holiday in Marbella>>
PHOTO GALLERY The Only Way Is Essex cast attend Legally Blonde party>>