Monday 30 July 2012
David and Victoria Beckham 'would love it' if she got pregnant with their 5th baby during Olympics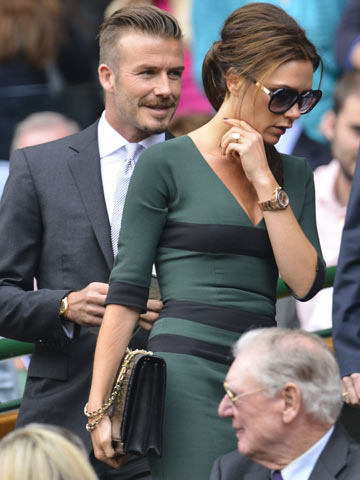 David and Victoria Beckham married in 1999
David and Victoria Beckham are reportedly hoping to conceive their 5th child during the Olympics in London.
Becks has always admitted he'd like to expand their brood further and now he and Posh think they've found the perfect time to try.
'Both Victoria and David are very patriotic and would love it if she got pregnant while they are in London for the Olympics, especially as it is also the Queen's Diamond Jubilee year,' claims a friend.
'Their other children were conceived overseas, so the duo are hoping that their final child will have a Made In Britain tag.'
Victoria, 38, and David, 37, are already parents to sons Brooklyn, 13, Romeo, 9, and Cruz, 7, as well as baby daughter Harper Seven, who turned 1 earlier this month.
Last year, David said that he and Victoria have always known that '5 was the number'.
'They have always wanted 5 children to give them a family of seven - which is their lucky number,' an insider tells the Daily Star.
'It's also the number that David wore on his England and Manchester United football shirts.'
SEE PICTURES David Beckham shocks fans at Westfield Stratford City
SEE PICTURES David Beckham's changing hairstyles
SEE PICTURES Victoria and David Beckham: A love story in pictures
Anna Duff