Thursday 26 July 2012
Janet Jackson accused of calling Michael's daughter Paris a 'spoilt little bitch' in spat outside LA home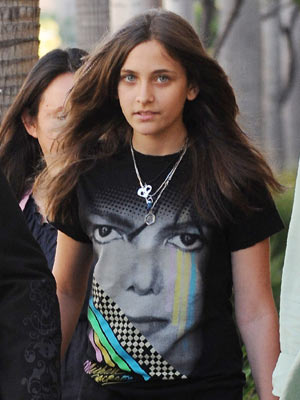 Paris Jackson is Michael Jackson's only daughter
Janet Jackson allegedly called her brother Michael's daughter Paris a 'spoilt little bitch' and tried to snatch her mobile phone during an argument that it's claimed has been captured on CCTV.
Paris, 14, and her 15-year-old brother Prince Michael are also reported to have rowed with uncles Jermaine and Randy at their LA mansion and police were called.
The spat comes days after Michael's elderly mother Katherine Jackson - who was appointed guardian of his children after his death in 2009 - was reported missing by her nephew Trent.
Paris was concerned about the 82-year-old's whereabouts because she hadn't seen her for 7 days, but Jermaine, 57, later let his Twitter followers know that he and other family members had taken Katherine to Arizona on doctor's orders.
Randy, 56, has now told a US programme that he, Jermaine and Janet, 46, went to Paris's home to pick her and Prince up and take them to their grandmother.
'We were denied access by security and Trent,' claimed Randy, who also said he wants to challenge lawyers about Jacko's will.
'Paris and Prince know they can visit and talk to grandma at any time. We felt someone was trying to twist the story.'
SEE PICTURES Michael Jackson: The Life Of An Icon London film premiere>>
SEE PICTURES The stars at Michael Jackson's memorial>>
SEE PICTURES Michael Jackson - life of a legend>>
Anna Duff