Thursday 26 July 2012
Married director Rupert Sanders apologises to family for cheating with Robert Pattinson's girl Kristen Stewart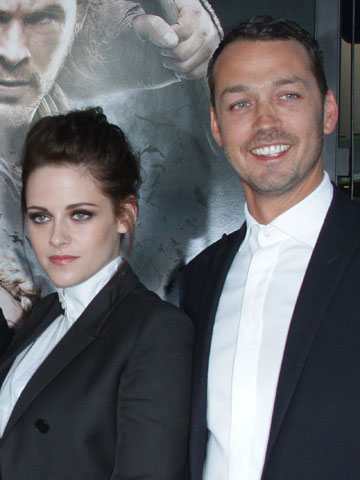 Rupert Sanders and Kristen Stewart worked together on Snow White And The Huntsman
The Snow White And The Huntsman film director who cheated on his wife with Kristen Stewart has issued an apology.
Rupert Sanders' statement follows 22-year-old Kristen's apology for the 'hurt and embarrassment' she's caused Twilight co-star Robert Pattinson with her betrayal.
'I am utterly distraught about the pain I have caused my family,' says Rupert.
'My beautiful wife and heavenly children are all I have in this world.
'I love them will all my heart. I am praying that we can get through this together.'
Photos of Kristen and Rupert, 41, shocked Twilight fans when they were published in Us Weekly magazine yesterday.
Rupert's British wife Liberty Ross deleted her Twitter account after re-Tweeting a series of inspirational messages from the user WomenOfHistory.
'Sometimes good things fall apart so better things can fall together,' she posted, a saying by Marilyn Monroe.
She later Tweeted a quote from American author Maya Angelou: 'If you find it in your heart to care for somebody else, you will have succeeded.'
PICTURES Robert Pattinson and Kristen Stewart - a love story in photos
SEE PICTURES Robert Pattinson stars in Twilight - an international phenomenon
SEE PICTURES Robert Pattinson and Kristen
Stewart kiss at MTV Movie Awards
SEE PICTURES Robert Pattinson and Kristen Stewart are so in love at friend's wedding
Anna Duff