Thursday 26 July 2012
Harry Styles beats JLS and One Direction band mates at golf and wins gold medal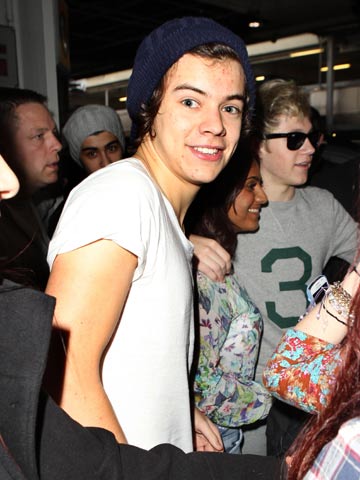 Harry Styles has been in the studio recording One Direction's second album
One Direction enjoyed a game of golf in the sun with JLS yesterday.
The boys hooked up for a few rounds during a day out organised by their management Modest! - and Harry Styles, 18, came out on top.
'Look who just won 1st prize @TaylorMadeTour well done @Harry_Styles,' Tweets a member of staff at the golf course, along with a photo of Harry and his gold medal.
Olly Murs - who recently supported 1D on their headline tour of the US - also turned up for an afternoon of male bonding with the two groups.
The singer, 28, chose not to take part in the game but he later joined the boys for some food.
'didn't play!! But I'm having free dinner BOOM,' Olly Tweeted.
SEE PICTURES The boys are back - One Direction return to the UK
SEE PICTURES One Direction sign copies of album Up All Night in New York
SEE PICTURES One Direction and red carpet guests at the Brits 2012
Anna Duff
VIDEO: One Direction's Harry Styles supports Cancer Research UK

VIDEO: One Direction coming soon
VIDEO: Teen Now meets One Direction part 1
VIDEO: Teen Now meets One Direction part 2
VIDEO: One Direction at Capital FM Jingle Bell Ball part 2