Tuesday 24 July 2012
As Peter Andre goes public with toygirl Emily Macdonagh, Katie Price says: He'll never love anyone the way he loved me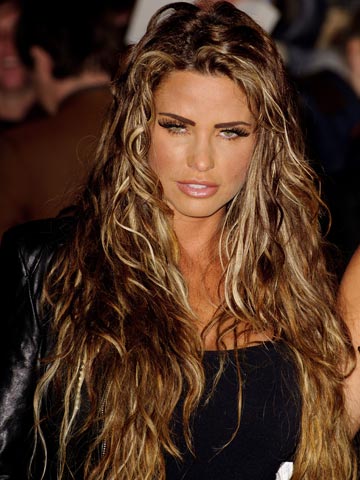 Katie Price is said to be jealous of Peter Andre's new girlfriend
Katie Price has claimed she's delighted Peter Andre is dating a girl 17 years his junior, posting on her website: 'I very much hope that Pete has found someone else he is happy with and can focus on.'
But Now can reveal that behind closed doors, she may not be quite as gracious about her ex-hubby's new love.
Our sources tell us the 34-year-old, who's engaged to toyboy Leandro Penna, 26, called a close friend for an emotional heart-to-heart, during which she declared: 'Pete will never love anyone the way he loved me.'
Ever since pictures emerged of Peter, 39, with new girlfriend Emily Macdonagh, 22, Jordan has been unable to contain her curiosity.
She's even been analysing photos of the couple - at The May Fair hotel two weeks ago and then at Ghost The Musical last week - to try to read their body language.
A source says: 'Katie's been trying to maintain a dignified silence over Pete's new romance but it's really getting to her.
'So when she saw photos of them together she concluded that Pete walking in front of Emily without holding her hand was a sign that she isn't that important to him.
'She remembered that when they were happily married he'd always hold her hand or they'd walk side by side.'
Read the full story about Peter Andre and Katie Price in Now magazine dated 30 July 2012 - out now!
SEE PICTURES Katie Price and Leandro Penna have a hot date in Argentina>>
SEE PICTURES Katie Price and Leandro Penna enjoy double date night with Kirk Norcross and Lauren Pope>>
SEE PICTURES Katie Price and Peter Andre: A love story in photos>>