Monday 23 July 2012
Mystery of Michael Jackson's missing mum Katherine is solved after she's found 'resting' in Arizona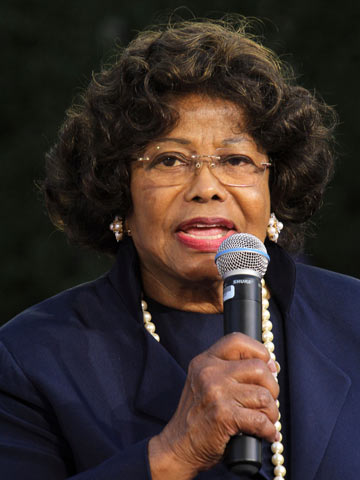 Katherine Jackson has looked after Michael Jackson's children since his death in 2009
Michael Jackson's elderly mother Katherine has been found 'resting up' in Arizona after she was reported missing by her nephew Trent.
Concern about the 82-year-old's whereabouts began when Michael's daughter Paris, 14 - who has been looked after by Katherine since her father's death in 2009 - claimed she hadn't seen her grandmother for 7 days.
'Yes , my grandmother is missing . i haven't spoken with her in a week i want her home now,' Tweeted Paris.
'If anybody sees my grandmother , please call the authorities or this number ... it's the security number .. thank you so much.'
But Michael's brother Jermaine, 57, told his Twitter followers later that day that he and other family members had taken Katherine to Arizona on doctor's orders.
He said he was 'dismayed' that the missing person report had caused 'anxiety' among Michael's children.
'Mother is safe and well in Arizona with her daughter and our sister, Rebbie, resting up on doctor's advice, so it is beyond me how she can be reported "missing",' Tweeted Jermaine.
'This incredulous claim was made for reasons best known to the adult/s who filed it but it seems no accident that it comes after we, the sons and daughters, put in place care-taking for our own mother, taking her to Arizona in line with doctor's advice following a check-up.'
SEE PICTURES Michael Jackson: The Life Of An Icon London film premiere>>
SEE PICTURES The stars at Michael Jackson's memorial>>
SEE PICTURES Michael Jackson - life of a legend>>
Anna Duff