Thursday 19 July 2012
One Direction star Harry Styles shows off new tribute tattoo to mum Anne Cox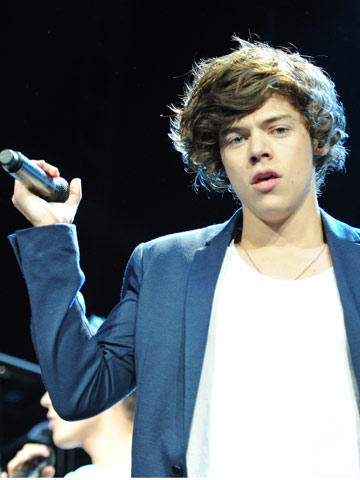 Harry Styles is back in the recording studio with One Direction
Harry Styles revealed his latest tattoo as he and his bandmates left the Sony Music offices in London yesterday.
The One Direction singer, 18, has had a tiny letter A inked on the inside of his left arm, reportedly in tribute to his mum Anne Cox.
Harry got the etching back in May but it's rarely seen in photographs as it's so small.
He already has two tattoos, both of which are also on his left arm.
One is an outline of a star at the top of his arm and the other is the Temper Trap lyric 'won't stop till we surrender...' scrawled in red underneath.
SEE PICTURES Celebrity tattoos>>
SEE PICTURES One Direction and Harry Styles sign copies of album Up All Night in New York>>
SEE PICTURES Harry Styles and One Direction are red carpet guests at the Brits 2012>>
Anna Duff
VIDEO: One Direction's Harry Styles supports Cancer Research UK

VIDEO: One Direction coming soon
VIDEO: Teen Now meets One Direction part 1
VIDEO: Teen Now meets One Direction part 2
VIDEO: One Direction at Capital FM Jingle Bell Ball part 2