Monday 23 July 2012
After Katie Holmes' escape - everyone wants a piece of her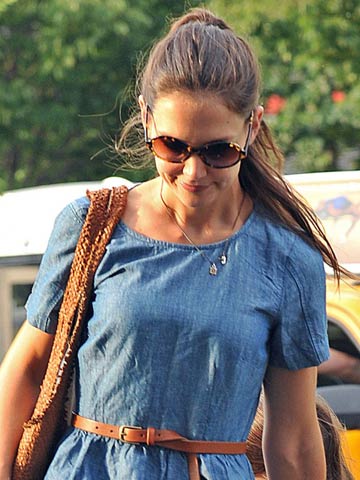 Katie Holmes is divorcing Tom Cruise
Katie Holmes has become the most in-demand star in Hollywood overnight since her split from Tom Cruise.
The 33-year-old is said to be wading through offers worth over £32 million!
'She can't believe it,' says a friend.
'She's had calls from US movie mogul Harvey Weinstein, who wants to put her in a sure-fire Oscar-worthy movie, calls about a Dawson's Creek reunion and offers from fashion and cosmetics giants offering her blank cheques to be the face of their brand.'
That's not all.
Katie's had six- figure offers for her first post-Tom interview from the likes of Oprah Winfrey and Piers Morgan.
The friend says: 'Everyone wants a piece of Katie now she's stood up to the might of Tom and his insidious "religion".'
But Katie's likely to keep schtum about the split after reports a gagging order was part of the divorce settlement in return for custody of daughter Suri, six.
Yet the movie deals are bound to be of interest to her.
'Tom was so controlling he harmed her career rather than helped it,' says the friend. 'Now Katie's free to become a star in her own right.'
It was claimed last week that Tom, 50, had banned posters for her 2005 movie Thank You For Smoking that showed her kissing co-star Aaron Eckhart.
Katie's now planning a flying visit to see her pal Victoria Beckham, before enrolling Suri into a Catholic school in New York.
Read more about Katie Holmes in Now magazine dated 23 July 2012 - out now!
NEW PICTURES Tom Cruise and Katie Holmes in Celebrity splits 2012>>
SEE PICTURES Katie Holmes treats daughter Suri to ice cream after Tom Cruise split>>
SEE PICTURES Katie Holmes enjoys a day out with daughter Suri Cruise in New York>>