Thursday 19 July 2012
Jodie Marsh: I've been celibate for so long that I feel like a virgin again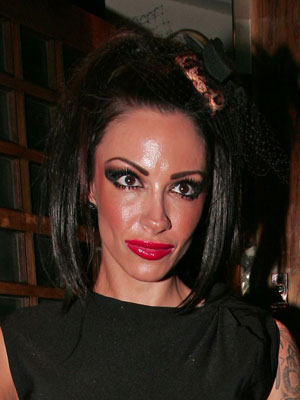 Jodie Marsh has been having fun with Kirk Norcross
Jodie Marsh is worried about getting intimate with a man again after a year of being celibate.
The body builder, 33, gave herself a sex ban in 2011 because she'd been through a series of bad experiences with guys.
'I've been celibate for so long that I feel like a virgin again,' says Jodie.
'And I'm a bit scared of sex now. I'm scared of giving myself to someone.'
Jodie says she doesn't want to sleep with anyone new unless she thinks it could lead to a serious relationship.
She admits she's been getting close to former TOWIE star Kirk Norcoss, 24, after they starred in a steamy photo shoot to promote her range of sport supplements.
She let him kiss her and 'grab her boobs', but she isn't comfortable with having sex with him just yet.
'We've seen each other naked and I always feel tempted around Kirk,' says Jodie.
'But I hold back.'
SHOCK PICTURES! Bodybuilder Jodie Marsh posts near-naked photos on Twitter>>
SEE PICTURES Jodie Marsh - from glamour model to bodybuilder>>
SEE PICTURES Stars react to Jodie Marsh's shock bodybuilder transformation on Twitter>>
Anna Duff