Wednesday 18 July 2012
TOMKAT DIVORCE Tom Cruise reunited with daughter Suri in New York for first time since Katie Holmes marriage split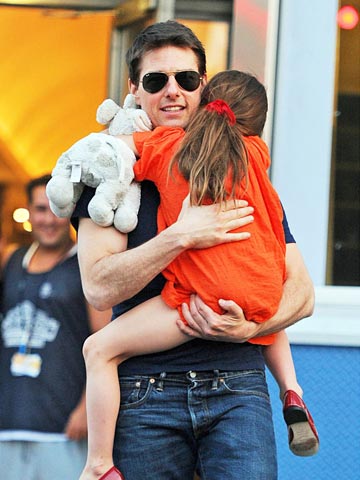 Suri Cruise gave dad Tom Cruise a big hug
Tom Cruise yesterday saw his 6-year-old daughter Suri for the first time since his wife Katie Holmes filed for divorce last month.
The actor, 50, was pictured with a huge smile as he cradled his daughter in his arms on a day out in Manhattan, New York.
Suri, who was clutching a teddy bear, had her arms wrapped around Tom.
It's the first time father and daughter have been pictured together since 16 June, when they dined with Katie, 33, at a sushi restaurant in Reykjavik, Iceland.
Tom and Katie agreed a divorce settlement and custody terms last week.
The actor's attorney Bert Fields had previously said that he couldn't wait to spend time with his little girl again.
'He will be seeing Suri very soon,' he told US Weekly.
'Tom loves his Suri very, very much, as he does his other two children. Tom is a family man, and dedicated to his children. They are the centre of his world.'
NEW PICTURES Tom Cruise spends time with daughter Suri for first time since Katie Holmes divorce settlement>>
NEW PICTURES Tom Cruise and Katie Holmes in Celebrity splits 2012>>
SEE PICTURES Katie Holmes treats daughter Suri to ice cream after Tom Cruise split>>
SEE PICTURES Katie Holmes enjoys a day out with daughter Suri Cruise in New York>>