Tuesday 17 July 2012
Harry Styles abandons Range Rover as One Direction fans mob him outside Cheshire home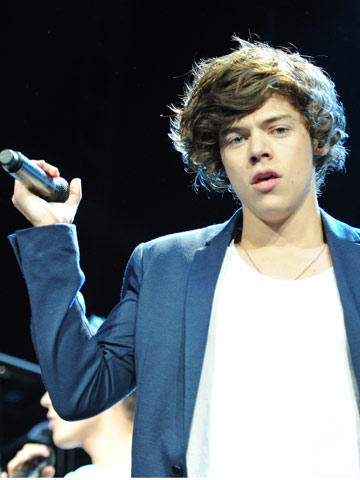 Harry Styles has been in the studio recording One Direction's second album
Harry Styles was forced to ditch his Range Rover after a group of hysterical One Direction fans surrounded it near his parents' home in Cheshire.
The singer, 18, had got out of his car to sign autographs, but had to abandon it in a neighbour's garage when the eager Directioners wouldn't move away.
Harry started making his way home by foot but was chased to the family house.
Once there, the 1D star escaped the fan by driving off in a Mini before meeting up with a group of friends.
'Harry was furious,' an onlooker tells The Sun.
'He doesn't mind signing autographs but when he can't get in his front door it is ridiculous.'
SEE PICTURES Liam Payne on his search for a new home with Lou Teasdale>>
SEE PICTURES One Direction sign copies of album Up All Night in New York>>
SEE PICTURES Harry Styles and One Direction with red carpet guests at the Brits 2012>>
Anna Duff
Harry Styles supports Cancer Research UK

One Direction coming soon


Teen Now meets One Direction part 1
Teen Now meets One Direction part 2
Capital FM Jingle Bell Ball part 2