Monday 16 July 2012
One Direction's Harry Styles and Liam Payne look around £1 million homes on the same Primrose Hill street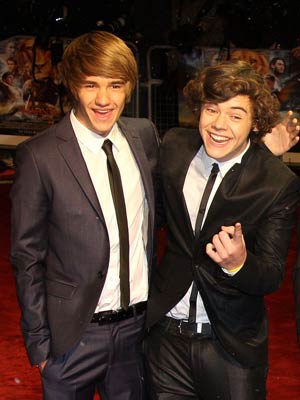 Harry Styles and Liam Payne are good friends
Harry Styles and Liam Payne could be about to become next door neighbours in London's exclusive Primrose Hill.
The One Direction singers, both 18, have been looking around properties worth over £1 million on the same up-market street.
'They really like the idea of Primrose Hill,' says a source.
'It's a celebrity haven and they're the biggest news in town right now.'
Last week, Liam viewed a £1.35 million home billed as being furnished to 'the highest specification' and including a glass staircase.
It's thought he wants to move in with girlfriend Danielle Peazer, 24.
'The boys are working so hard and getting so much attention,' the source tells The Sun.
'They want to start seeing what they've earned and find somewhere they can call their own and relax in.'
SEE PICTURES Liam Payne on his search for a new home with Lou Teasdale>>
SEE PICTURES One Direction sign copies of album Up All Night in New York>>
SEE PICTURES Harry Styles and One Direction with red carpet guests at the Brits 2012>>
Anna Duff
Harry Styles supports Cancer Research UK

One Direction coming soon


Teen Now meets One Direction part 1
Teen Now meets One Direction part 2
Capital FM Jingle Bell Ball part 2