Monday 16 July 2012
One Direction's Louis Tomlinson sends 'lovely girlfriend' Eleanor Calder a romantic Tweet on her 20th birthday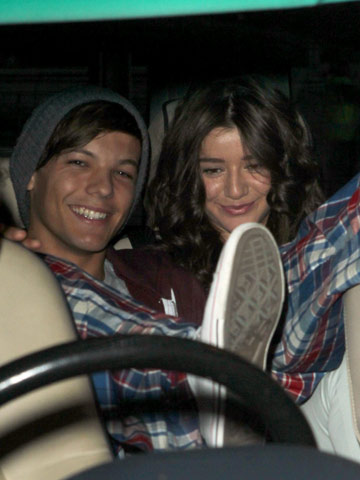 Louis Tomlinson and Eleanor Calder are loved-up
Louis Tomlinson waited up until midnight to send a 20th birthday message to his girlfriend Eleanor Calder on Twitter.
The smitten One Direction singer attempted to make his other half's big day a trending topic on the site by using the hash tag #happybirthdayeleanor.
'A very happy birthday to my lovely girlfriend @eleanorjcalder . Love you lots and lots ‪#happybirthdayeleanor‬,' he Tweeted.
Louis, 20, wasn't the only person who was keen to send Eleanor a celebratory Tweet at the stroke of midnight.
The 1D star's mum Jay penned a cute message from the entire Tomlinson family.
'@EleanorJCalder Happy Birthday sweet! Have a lovely day with my lovely boy! Love Jay, Dan & girls XxxxxxxxxxxxxxxxxxxxxxxxxxxxxxxxX,' she Tweeted.
And Liam Payne's girlfriend Danielle Peazer, 24, wrote: '@EleanorJCalder HAPPY BIRTHDAY!! I waited up which was hard seeing as we're already 1hour ahead of you! Have an amazing day, lots of love x.'
SEE PICTURES Get the look! One Direction girlfriends Eleanor Calder and Danielle Peazer are new style icons>>
SEE PICTURES One Direction sign copies of album Up All Night in New York>>
NEW PICTURES One Direction and red carpet guests at the Brits 2012>>
Anna Duff
VIDEO: One Direction's Harry Styles supports Cancer Research UK

VIDEO: One Direction coming soon
VIDEO: Teen Now meets One Direction part 1
VIDEO: Teen Now meets One Direction part 2
VIDEO: One Direction at Capital FM Jingle Bell Ball part 2