Friday 13 July 2012
FUNNY VIDEO American Pie star Jason Biggs strips to thong in joke audition for new stripper film Magic Mike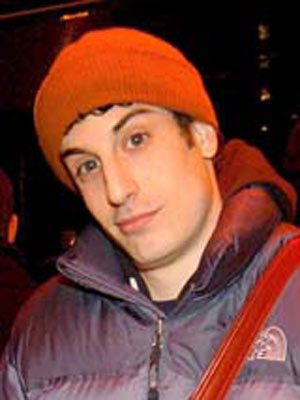 Jason Biggs is best known as Jim Levenstein in the American Pie films
American Pie star Jason Biggs has released a hilarious spoof audition tape for Channing Tatum's new stripper film Magic Mike.
In the video, the actor, 34, reads out some of the movie's cheesy lines from a script before performing a funny striptease while wearing a cowboy hat.
Jason grabs his crotch and does some saucy grinding before ripping off his shirt and removing his jeans - revealing a very skimpy G-string.
In the last few seconds of the video, the funnyman shakes his bum cheeks in front of the camera.
Jason is no stranger to acting out embarrassing situations for our viewing pleasure.
He's had plenty of practice playing Jim Levenstein in four American Pie films, the last of which was released earlier this year.
SEE VIDEO Jason Biggs' spoof audition for Magic Mike...
SEE PICTURES TV stars join Channing Tatum for Magic Mike film premiere in London>>
Anna Duff