Friday 13 July 2012
Brad Pitt's brother defends their mum Jane Pitt after she writes anti-gay marriage letter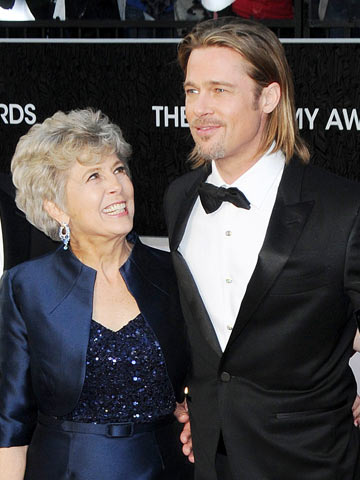 Brad Pitt and his mum Jane don't share the same views
Brad Pitt's younger brother Doug has stuck up for their mum after she came under fire for slamming US President Obama's backing of abortions and gay weddings last week.
Jane Pitt wrote to her local newspaper saying that anyone who was planning to vote for Barack Obama is 'a liberal who supports the killing of unborn babies and same-sex marriage'.
But now Doug has come to her defence.
'Mums and dads and kids agree to disagree all over the world, so why would our family be any different?' he tells the Today show.
'There can be healthy discussion when people disagree with you, and I think there should be.
'The bad thing is when it turns into venom and negativity and we don't have that in our family. It's open discussion, we can learn from each other...maybe you learn something.'
Brad, 48, and his fiancée Angelina Jolie, 37, have both previously spoken out in support of same-sex marriage.
Before they got engaged in April, they'd vowed not to get hitched until everyone else who wants to can legally do so.
'It is each American's Constitutional right to marry the person they love, no matter what state they inhabit,' said Brad.
'No state should decide who can marry and who cannot.'
SEE PICTURES Brad Pitt and Angelina Jolie - a love story in photos>>
SEE PICTURES Brad Pitt and Angelina Jolie's loved-up date at the Super Bowl>>
SEE PICTURES Angelina Jolie and Brad Pitt nuzzle up at Cannes>>
Anna Duff