Thursday 12 July 2012
Lewis Hamilton: It's madness that I can't say goodbye to a female friend without it being seen as a mystery kiss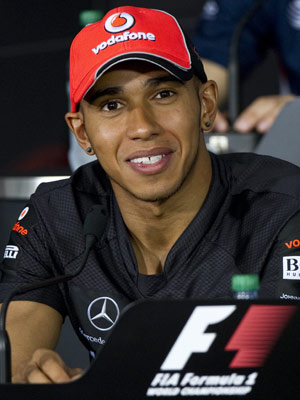 Lewis Hamilton and Nicole Scherzinger are both friends with Phreeda Sharp
Lewis Hamilton has rubbished claims that he got cosy with a pretty brunette outside a London club this week while his girlfriend Nicole Scherzinger was in California.
The Formula 1 star insists he was simply saying goodbye to his long-term pal Phreeda Sharp, who he knows from back home in Stevenage, Hertfordshire.
'Just seen some stories online today. Phreeda is like my sister, a good mate to me n Nicole,' Tweets Lewis, 27.
'Can't say goodbye 2 friends without it being seen as a mystery kiss. Next time may have 2 shake hands!! Madness!'
Lewis had been partying at nightclub Funky Buddha until 3am before making his way to the nearby May Fair Hotel, where the photos were taken.
Rapper Phreeda says there's no way she'd have hooked up with the racing driver.
'I am not dating Lewis Hamilton,' she tells the Daily Mirror.
'He is like my brother.'
SEE PICTURES Lewis Hamilton and Nicole Scherzinger - a love story in photos>>
SEE PICTURES Nicole Scherzinger at the 2011 Fox Upfront Presentation>>
Anna Duff