Wednesday 11 July 2012
One Direction's Harry Styles and Liam Payne go back to school in naked nightmares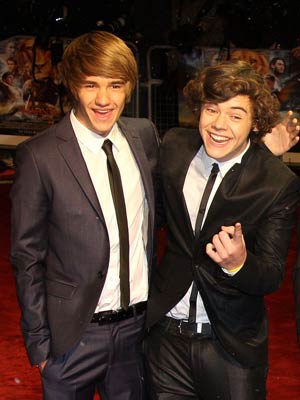 Harry Styles and Liam Payne can't sleep
Harry Styles and Liam Payne have been dreaming about a life without One Direction.

The boys - who've just returned home from a tour of the States - have revealed that they often wake up in cold sweats because they have nightmares that they're back at school.

'I had a dream that I woke up in maths,' says Harry, 18.
But the curly-haired cutie's visions are pretty tame compared to those of his bandmate Liam, 18.

'I dream about being back at school a lot and have been naked a few times,' he tells The Sun.

'And I've have been in the park naked on a climbing frame.'
We can see a theme developing here, Liam.
SEE PICTURES Liam Payne joins One Direction and red carpet guests at the Brits 2012>>
SEE EXCLUSIVE VIDEO Teen Now meets Liam Payne and One Direction>>
SEE VIDEO Liam Payne and One Direction mobbed by screaming fans in London>>
Beth Shearing
VIDEO: One Direction's Harry Styles supports Cancer Research UK

VIDEO: One Direction coming soon
VIDEO: Teen Now meets One Direction part 1
VIDEO: Teen Now meets
One Direction
part 2
VIDEO: One Direction at Capital FM Jingle Bell Ball part 2