Thursday 12 July 2012
Josie Gibson: Luke Sanwo is three weeks away from a dumping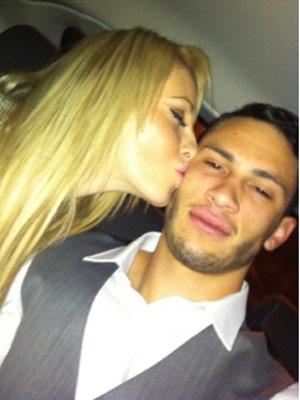 Josie Gibson and Luke Sanwo are trying to make things work
Now columnist Josie Gibson has revealed that the relationship challenge she set herself isn't going so well.
'You may remember that me and Luke Sanwo gave ourselves six weeks to shape up or split up,' the 27-year-old tells us.
'Well, now we're halfway through. So what have we done? Turned it into a bloody joke.
'It began with us saying: "Let's see if we can fix it in six weeks," but has ended up with me joking: "You're three weeks away from a dumping, unless you make me a cuppa..."'
Josie says she wants to get the spark back with Luke.
'Neither of us wants to admit what we kind of already know: we're more compatible when we're painting than porking,' she tells Now.
'It'll kill me if we can't get back what we had, especially as I know that a lot of our problems have stemmed from the fact that Lukey isn't as busy in Bristol as he was in London.
Read Josie Gibson's full column in Now magazine dated 16 July 2012 - out now!
SEE PICTURES At home with Josie Gibson>>
EXCLUSIVE PICTURES Big Brother winner Josie Gibson gets naked for Now>>