Monday 09 July 2012
Kate and Pippa Middleton get emotional as Andy Murray cries after losing Wimbledon men's final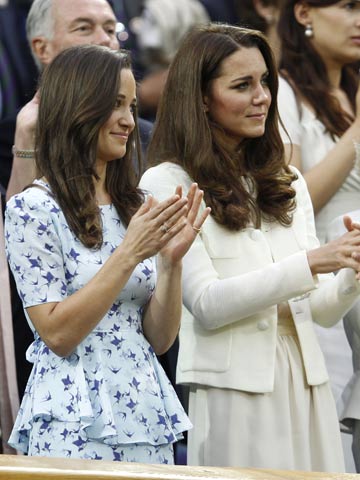 Kate and Pippa Middleton cheered on Andy Murray at Wimbledon yesterday
Kate Middleton looked teary as she and sister Pippa watched Andy Murray lose the Wimbledon 2012 men's tennis final to Roger Federer yesterday afternoon.
The pair had joined celebrities such as David and Victoria Beckham, Marvin Humes and Rochelle Wiseman on Centre Court to see the game.
Kate, 30, looked gorgeous in a cream Joseph Vanessa dress, which she first wore during her and Prince William's tour of Canada last July.
She matched it with a tweed jacket and a pair of £495 Kiki McDonough drop earrings.
Pippa, 28, donned a blue and white dress from Dannii Minogue's label Project D.
Scotsman Andy, 25, was visibly choked after being defeated by 7-time Wimbledon winner Roger, 30.
His mum Judy and girlfriend Kim Sears were also seen breaking down in tears in the stands.
'I lost to a guy that's now won this tournament seven times and is No 1 in the world,' said Andy after the match.
'So if that's your best chance, then we're talking about one of the greatest athletes of all time here, like we're saying. Got to put it in context a little bit.'
NEW PICTURES Kate Middleton and sister Pippa cheer on Andy Murray in Wimbledon final against Roger Federer>>
SEE PICTURES Kate Middleton Style File>>
SEE PICTURES Kate Middleton and Prince William dazzle in LA>>
SEE PICTURES Kate Middleton dazzles in ARK event>>
Anna Duff