Friday 06 July 2012
The Wanted's Tom Parker: We bumped into One Direction in a massage parlour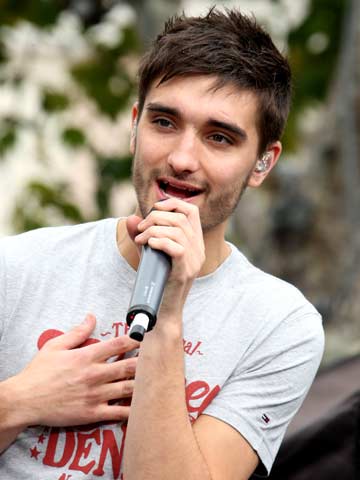 Tom Parker has had success in the US with The Wanted
The Wanted's Tom Parker says he and the lads have only bumped into One Direction on one occasion - in a rather unexpected location.
Both bands have been working hard to crack America but haven't really crossed paths.
'We only saw One Direction once when we bumped into them at a massage parlour,' Tom, 23, tells the Daily Star.
'We were using it as a rehearsal space and they were literally next door. So we went and said hi.'
Nathan Sykes, 19, was keen to go on a night out with 1D when they were competing for the highest position on the US Billboard Singles Hot 100 in March, but the rendezvous hasn't happened yet.
'Once this battle is over with One Direction we are going to take them for a drink, and we'll show them who can drink the most,' Nathan told The People.
'We tend to start on beer and then go on to spirits. Then of course we will take the 1D boys to a strip club. I would love to see their faces when we suggest that.'
Um, big smiles, we bet.
SEE PICTURES One Direction and other stars on the red carpet at the Brit Awards 2012>>
SEE EXCLUSIVE VIDEO Teen Now meets Harry Styles and One Direction>>
SEE VIDEO Harry Styles and One Direction mobbed by screaming fans in London>>
Anna Duff

Harry Styles supports Cancer Research UK



One Direction coming soon
Teen Now meets One Direction part 1
Teen Now meets One Direction part 2
Capital FM Jingle Bell Ball part 2
EXCLUSIVE We've got The Wanted Part 1
EXCLUSIVE We've got The Wanted Part 2
EXCLUSIVE The Wanted: Help them choose new album name