Friday 06 July 2012
N-Dubz star Dappy apologises after sparking outrage by urging release of headmaster's killer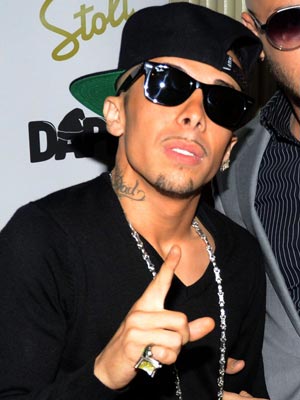 Dappy is a dad of 2
N-Dubz star Dappy has come under fire for demanding the release of a man who killed a head teacher at the age of 15.
The video for Dappy's new song Tarzan 2 starts with a message reading: 'The views & opinions expressed in this video are those of the artist only.
'Free Leo Chindamo.'
Learco Chindamo, who's now 31, stabbed 48-year-old Philip Lawrence outside St George's RC School in London's Maida Vale in 1995 after he tried to stop a fight by the gates.
Chindamo served 14 years for murder before being released on licence in July 2010, but was sent back to prison 4 months later.
He's due to be released next year.
Dappy, 25 - who went to the same school as Chindamo - posted an apology on Twitter earlier today.
'Just wanted to say I honestly wasn't aware he did that, I knew his brother from when I was young,' he Tweeted.
'In no way did I intend to cause any upset and certainly didn't know about his past. My heart goes out to Mr Laurence's family and I know the pain of losing a loved one, sincerely Daps.'
SEE PICTURES Dappy and N-Dubz at Radio 1 in London>>
SEE PICTURES Dappy and N-Dubz at the Variety Club Showbiz Awards in London>>
SEE PICTURES N-Dubz at the Brit Awards 2010: Stars arrive on the red carpet>>
Anna Duff