Friday 06 July 2012
Jools Oliver wants baby No 5 with celebrity chef Jamie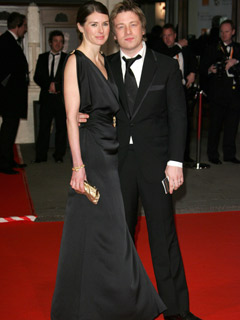 Jamie Oliver and Jools Oliver have been married for 12 years
Celebrity chef and TV star Jamie Oliver had better watch out.
Wife Jools Oliver has been meeting lots of beautiful baby models at photoshoots for her new Mothercare childrenswear range and it's making her broody.
The couple dote on daughters Poppy Honey, 10, Daisy Boo, 9, and Petal Blossom, 3, as well as one-year-old son Buddy Bear - and still have love to spare.
'There was one little girl who was almost the same age as Buddy,' says Jools, 37.
'She was so cute and I just thought, "I want another."
'I just love babies and toddlers. Babies are cute and funny and they make you laugh.'
Ex-model Jools reckons she and Jamie have got lots to offer a new addition.
'I might have another baby, you don't know,' she tells The Sun.
'When I reach 40 we'll talk about it again and hopefully I'll be thinking, "No way", because it's quite a lot of hard work.
'But I don't think I will - I think I'll still want another. I've got plenty of stuff to give the baby, so I should do it.'
SEE TWITTER PICTURE Jamie and Jools Oliver's new baby boy>>
SEE PICTURES Jamie and Jools Oliver show off baby Petal>>
SEE PICTURES Celebrity baby names A to Z>>
SEE PICTURES Celebrity baby births 2010>>
SEE PICTURES Pregnant celebrities>>
April Foot