Thursday 05 July 2012
Kate Middleton looks thrilled as she cheers on Andy Murray with Prince William at Wimbledon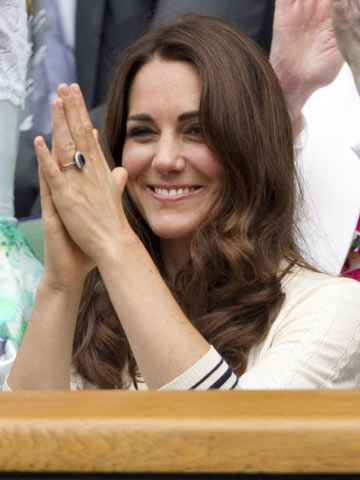 Kate Middleton is a big sports fan
Kate Middleton couldn't hide her excitement as she watched Andy Murray's nail-biting match against David Ferrer at Wimbledon yesterday.
Kate, 30, was joined by husband Prince William on Centre Court to watch Andy win his first 2 sets against the Spanish player.
Kate looked stunning in a knitted cream Alexander McQueen midi as she and Wills, also 30, were joined in the royal box by England football manager Roy Hodgson, Michael Parkinson and Des Lynham.
But the couple didn't get to see Andy, 25, make it through to the tournament's semi-final as they left at 6.30pm to fly to Scotland, where Wills will today be formally installed as a Royal Knight Of The Thistle by the Queen.
After triumphing in the match, Andy spoke of how pleased he was to have the pair in the audience.
'I was aware of it. We got told before we went on the court,' he said.
'It's always going to make a difference when you have royalty in there.'
SEE PICTURES Kate Middleton Style File>>
SEE PICTURES Kate Middleton and Prince William dazzle in LA>>
SEE PICTURES Kate Middleton dazzles in ARK event>>
Anna Duff