Thursday 05 July 2012
Robert Pattinson and Kristen Stewart engaged? Twilight stars shop for rings in West Hollywood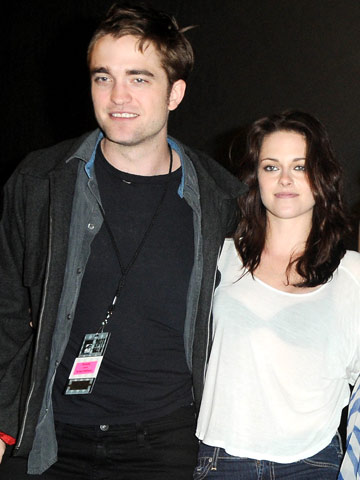 Robert Pattinson and Kristen Stewart met on the set of Twilight
Robert Pattinson and Kristen Stewart have been spotted shopping for rings at a West Hollywood jewellery store.
Kristen, 22, was looking at quirky pieces with different coloured diamonds, according to onlookers at the city's Neil Lane shop.
'She loves Rob, and she's finally ready - and engagement is a logical next step,' a friend tells Metro.
'In the past year, they've really heated up - moving in together, travelling together, introducing each other to friends.'
The couple, who met while playing the roles of Bella Swan and Edward Cullen in the Twilight films, are notoriously cagey about their romance and rarely talk about each other.
But they've become more open in the past few months and were pictured kissing for the first time at Cannes Film Festival in May.
However, if Kristen has become engaged to Robert, 26, it's very unlikely that she'll announce it.
'I guarantee whenever I get married or have a baby, everyone is going to want to know my kid's name and I'm not going to say it for ages,' Kristen told GQ last year.
'That's just the way I want to do it. It'll come out but it won't have come from me.
'They're going to be really p*ssed off.'
PICTURES Robert Pattinson and Kristen Stewart - a love story in photos>>
SEE PICTURES Robert Pattinson stars in Twilight - an international phenomenon>>
SEE PICTURES Robert Pattinson and Kristen
Stewart kiss at MTV Movie Awards>>
SEE PICTURES Robert Pattinson and Kristen Stewart are so in love at friend's wedding>>
Anna Duff