Thursday 05 July 2012
1D star Louis Tomlinson's mum: I'm not angry he's in France with Eleanor Calder, he deserves his rest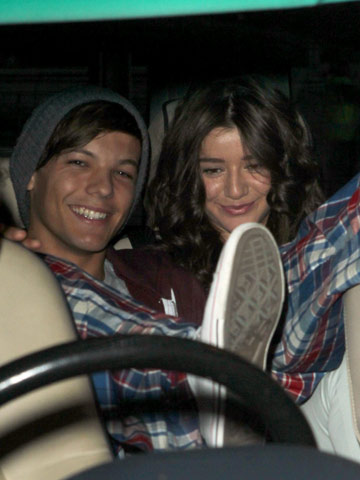 Louis Tomlinson and Eleanor Calder are loved-up
Louis Tomlinson's mum has denied she's annoyed with her son for flying straight to France with girlfriend Eleanor Calder after One Direction's headline tour of the US.
Jay Tomlinson hasn't seen Louis since he flew back from Florida on Tuesday, but says she's glad he's spending time with Eleanor.
'@SadieOfficial @Louis_Tomlinson @eleanorjcalder I want my boy to have the rest he deserves! I'm seeing him very soon! X x,' Tweets Jay.
Jay has a good relationship with most Directioners and often chats to them over Twitter.
She was quick to respond when one cheeky fan asked her where Louis gets his 'magnificent bottom' from.
'@IrishBooBear Me :) x,' replied Jay.
NEW PICTURES Louis Tomlinson and Eleanor Calder in LA>>
SEE PICTURES Louis Tomlinson and One Direction and red carpet guests at The Brits 2012>>
SEE VIDEO Louis Tomlinson and One Direction mobbed by screaming fans in London>>
Anna Duff
VIDEO: Harry Styles supports Cancer Research UK

VIDEO: One Direction coming soon
VIDEO: Teen Now meets One Direction part 1
VIDEO: Teen Now meets One Direction part 2
VIDEO: Capital FM Jingle Bell Ball part 2 with One Direction