Wednesday 04 July 2012
Emma B 'overwhelmed' as she places higher than Jodie Marsh at bodybuilding championships in Bedford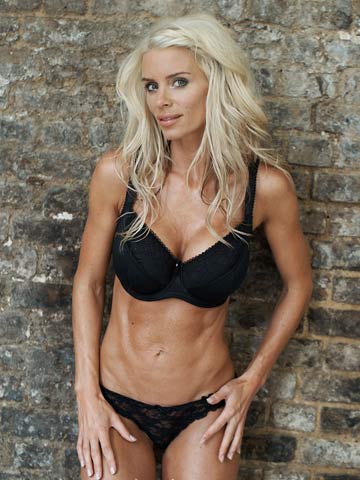 Emma B has to wear a lot of fake tan for contests
Emma B placed higher than Jodie Marsh in a recent bodybuilding competition.
Emma won first prize in the bikini section at the UKBFF MuscleTalk Championships in Bedford last month, while Jodie only managed fourth in the fitness category.
'I WON!!!! Omg I'm qualified for British championships!!!!,' Tweeted Emma, 33.
'im feeling very overwhelmed had a fab day with the most loveliest people ever!'
Jodie, also 33, admits she was a little disappointed at missing out on a medal.
'I came 4th out of 11. Not the best result but onwards & upwards!:-( x x x,' Tweeted Jodie.
Despite competing in the same sport as Jodie, Emma has rubbished reports that there's rivalry between the girls.
'Jodie marsh and I have no 'beef' with each other, all is ok,' she Tweets.
NEW PICTURES Who has the best body - Jodie Marsh or Emma B?
SEE PICTURES Jodie Marsh - from glamour model to bodybuilder>>
SEE PICTURES Stars react to Jodie Marsh's shock bodybuilder transformation on Twitter>>
SEE PICTURES Jodie Marsh in The Celebrity Boob Job>>
Anna Duff