Sunday 08 July 2012
Spider-Man Andrew Garfield: Love scenes with girlfriend Emma Stone were terrifying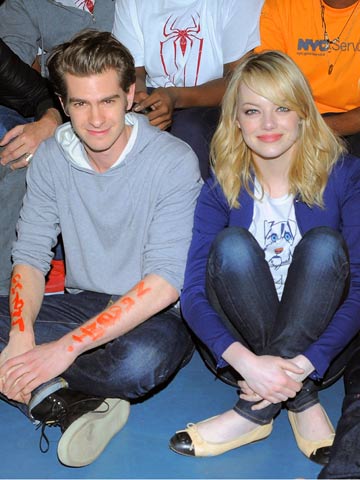 Andrew Garfield and Emma Stone are believed to be living together in New York
Andrew Garfield found filming new film The Amazing Spider-Man quite scary - not because of the stunts, but because of the romantic scenes between his character Peter Parker and Gwen Stacy, played by US actress Emma Stone.
The British actor, who has been dating his stunning co-star since filming ended last summer, reckons it was Emma's fault that he was nervous.
'The romantic scenes have to be spontaneous and free and terrifying because thats what first love is,' says Andrew, 28.
'In a weird way, the love scenes were actually more frightening than swinging through the buildings, especially because it's Emma - she's terrifying.'
But heart-throb Andrew knew straight away that something special was developing between him and Emma, 23.
'We got on really well as people between takes,' Andrew tells The Sun.
'That was the fun stuff. We'd just mess around and I felt, "Ah, this is different."
'Emma keeps you on your toes and that wakes you up. That was the beginning.'
April Foot