Tuesday 03 July 2012
Peter Andre: I fancy Lisa Maffia and I'm meeting up with Steps star Claire Richards - they're both gorgeous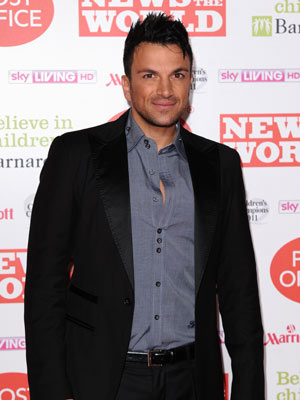 Peter Andre has two children with Katie Price
Peter Andre has struck up an unlikely friendship with So Solid Crew rapper Lisa Maffia.
The 39-year-old singer told his 2,105,261 Twitter followers last week that he was 'loving' Lisa, 33, after spending time with her in the recording studio.
'She's recording at the moment as well and we've been getting on really well. She's absolutely gorgeous,' says Peter.
'Do I fancy her? I fancy everyone! Let's just leave it at that...'
Peter is currently single but Steps singer Claire Richards has revealed in her new autobiography that they had a dalliance when they were touring together in 1995.
While Pete admits he thought Claire was 'gorgeous' too, he didn't want to take their relationship any further than an innocent smooch.
'I bumped into her one night in a hotel corridor and gave her a kiss on the lips and then a kiss on her midriff,' says Peter.
'In her book, she said I called her a couple of years later but I honestly can't remember that as it was so long ago.
'I'm seeing her this Saturday at a gig we're doing so I'm sure we'll have a laugh about it all then!'
SEE PICTURES Katie Price and Peter Andre: A love story in photos>>
SEE PICTURES Peter Andre and Amy Childs party at Sugar Hut>>
SEE PICTURES Peter Andre's night on the town with Nicola McLean and Chantelle Houghton>>
Anna Duff