Tuesday 03 July 2012
'Worn down' Katie Holmes snapped without wedding ring for first time since filing for divorce from 'hearbroken' Tom Cruise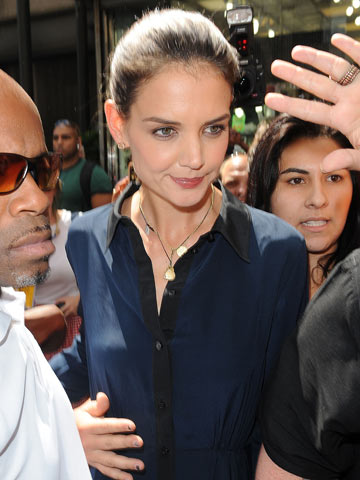 Katie Holmes wants custody of Suri Cruise
Katie Holmes stepped out in public for the first time yesterday since filing for divorce from husband Tom Cruise.
The actress wasn't wearing her wedding ring as she was escorted around New York by security to film a guest judge slot on reality show Project Runway.
Meanwhile Tom, who turns 50 today, has been in Iceland shooting new film Oblivion and is said to be 'totally devastated and heartbroken' about the split.
Katie, 33, filed for divorce from Tom in New York rather than California because she'll be more likely to receive sole custody of the couple's daughter Suri, 6.
This is because judges in the city often choose not to give fighting parents joint custody as it could have a negative impact on the child.
It's believed that Katie took advice from her lawyer father Martin Holmes before beginning divorce proceedings.
'He was worried about his daughter,' a source tells the Daily Mail.
'Katie went from this beautiful, happy face to this sullen, sad face, and she got sadder and sadder.
'She looked worn down.'
NEW PICTURES Tom Cruise and Katie Holmes in Celebrity splits 2012>>
SEE PICTURES Katie Holmes enjoys a day out with daughter Suri Cruise in New York>>

SEE PICTURES OMG! Look at how cute Suri Cruise is>>
Anna Duff