Thursday 28 June 2012
Harry Styles' dad: If Harry got a girl pregnant he'd be responsible and just get on with it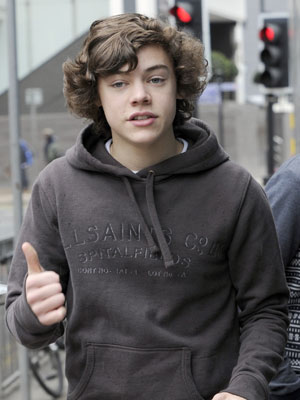 Harry Styles is currently on tour in the US with One Direction
Harry Styles' dad says the One Direction singer would step up if he became a teenage parent.
Des Styles has warned cougar magnet Harry to be careful, but he reckons his son would take any news of impending fatherhood in his stride.
'I don't think it'd bother him too much if he did get a girl pregnant,' says Des, 54.
'He would be a responsible parent and just get on with it. I honestly think that's the way he would be.'
While Des thinks Harry, 18, would do the right thing if the situation were to arise, he knows that any of the 1D boys having children now would spell disaster for the group's future.
'If that were to happen it would really screw things up big time,' Des tells The People.
'From a One Direction aspect it wouldn't be great for all sorts of reasons.'
SEE PICTURES One Direction and Harry Styles sign copies of album Up All Night in New York to mark US release>>
SEE PICTURES Harry Styles and One Direction and red carpet guests at the Brits 2012>>
SEE EXCLUSIVE VIDEO Teen Now meets Harry Styles and One Direction>>
Anna Duff


VIDEO: One Direction's Harry Styles supports Cancer Research UK

VIDEO: One Direction coming soon
VIDEO: Teen Now meets One Direction part 1
VIDEO: Teen Now meets
One Direction
part 2
VIDEO: One Direction at Capital FM Jingle Bell Ball part 2