Wednesday 27 June 2012
Ed Sheeran: One Direction want songs I wrote when I was 17 for their next album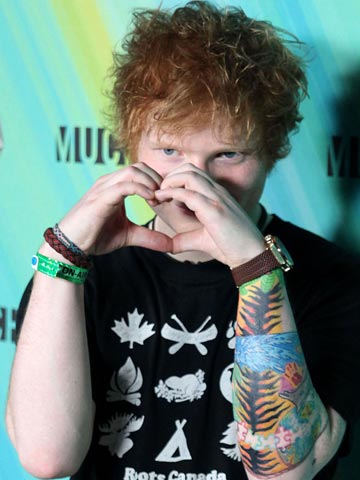 Ed Sheeran has also been writing songs with Taylor Swift
Ed Sheeran
will be help produce
One Direction's
second album.
The 21-year-old singer has revealed he's teaming up with Harry Styles and co in the summer to work on some unused tracks he penned as a teen.
'I wrote a couple of songs when I was 17 that One Direction want for their next album,' Ed said recently, reports PerezHilton.com.
'I'm going into the studio in August to produce the tracks for them.'
Ed's not the only star involved with the lads' follow-up record, McFly's Tom Fletcher has already written a number for the band - which they love.
'@tommcfly tuuuuune! you've smashed it dude..thank you,' Tweeted Niall Horan, 18, in March.
SEE PICTURES Harry Styles' life in pictures>>
SEE PICTURES One Direction show off hot new hair in sexy magazine shoot>>
SEE PICTURES One Direction sign copies of album Up All Night in New York>>
Beth Shearing
VIDEO: One Direction's Harry Styles supports Cancer Research UK

VIDEO: One Direction coming soon
VIDEO: Teen Now meets One Direction part 1
VIDEO: Teen Now meets
One Direction
part 2
VIDEO: One Direction at Capital FM Jingle Bell Ball part 2