Tuesday 26 June 2012
Victoria Beckham thanks Spice Girls for 'amazing day' at launch of new musical Viva Forever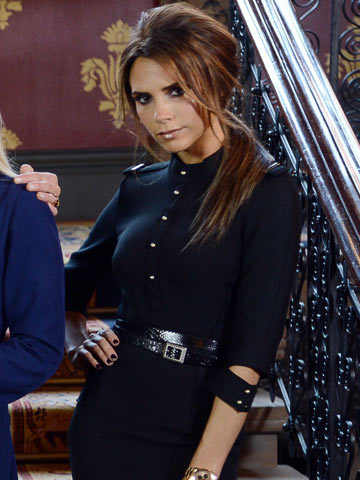 Victoria Beckham wore a military-inspired outfit at London's St Pancras Hotel
Victoria Beckham has hooked up with her former Spice Girls band mates for the first time since their 2008 reunion tour.
They all got together for the launch of new musical Viva Forever this afternoon.
The stylista flew to the UK from her home in America to join the girls at London's St Pancras Hotel along with the show's writer Jennifer Saunders.
'On my way home!! Thank you @MelanieCmusic @OfficialMelB @EmmaBunton @GeriHalliwell for an amazing day!! X vb,' Tweets Victoria, 38.
'Thank u to all our fans for being with us today!! X vb.'
Viva Forever - which is due to open at London's Piccadilly Theatre this December - tells the story of a young woman who is placed into a girl band after appearing on a talent show.
The musical will include Spice Girls hits such as Wannabe, Who Do You Think You Are? and Mama.
Earlier this week - before she jetted in - Victoria asked her British Twitter followers for advice on what look she should go for at the event.
'What is the weather like in London? I heard it was cold!!!! and rainy!! what should I wear? X vb,' she Tweeted.
NEW PICTURES Victoria Beckham joins Spice Girls for Viva Forever musical launch>>
SEE PICTURES Victoria Beckham and baby Harper Seven dress up to hit the shops>>
SEE PICTURES Victoria Beckham and Eva Longoria take baby Harper Seven to watch dad David play football in LA>>
SEE PICTURES Style queen Victoria Beckham and baby Harper Seven visit Marc Jacobs in New York>>
Anna Duff