Wednesday 27 June 2012
Radio DJ Lucy Horobin deletes Twitter account and is off work following Harry Styles fling allegations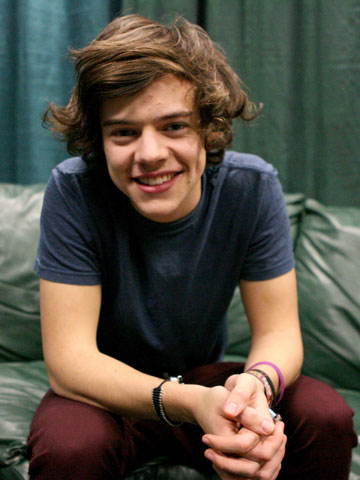 Harry Styles is currently on his first headline tour of the US with One Direction
The DJ who's alleged to have had a hot romance with One Direction star Harry Styles wasn't at work at radio station Heart South Coast FM on Monday.
Lucy Horobin's co-presenter Jason King made light out of her absence on their breakfast show, which is broadcast from Hampshire.
'Over the weekend you may have picked something up in the newsagents and read something which may have shocked you,' he quipped.
'I'd like to confirm the rumours are true and she has taken time off - to read Fifty Shades Of Grey and tell us all about it tomorrow.'
It's claimed that Lucy hung out with Harry, then 17, for 3 months last year while she was temporarily estranged from her husband - and before the 1D hottie romanced Caroline Flack.
When reports of the pair's flirtation emerged over the weekend, Lucy suffered an intense Twitter backlash from angry One Direction fans and has now deleted her account.
':(,' she Tweeted on Sunday, indicating her sad face.
SEE PICTURES Harry Styles and One Direction perform on German TV show>>
SEE EXCLUSIVE VIDEO Teen Now meets Harry Styles and One Direction>>
SEE VIDEO One Direction mobbed by screaming fans in London>>
Anna Duff
Harry Styles supports Cancer Research UK
One Direction coming soon

Teen Now meets One Direction part 1
Teen Now meets
One Direction
part 2
Capital FM Jingle Bell Ball part 2 with One Direction